Alessandra Rueegger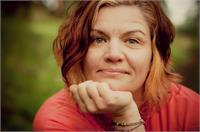 One of my favorite things is to be around interesting, inspiring, kind people who want to share, laugh and cry about the highs and lows that this crazy, beautiful life presents. Yoga gives me a place to do that. We share through our breaths, through the challenges of certain poses, through a joke during core, or tears in savasana. Our hearts get cracked wide open so the light can shine through.
Through the cracks I have in my heart, the challenges that life has presented to me, I naturally share my vulnerability and easily connect with my students. I appreciate each person's story and my intention is to meet students wherever they are on their path. I love finding the balance between going deep and feeling the intensity of that journey all the while finding the lightness in it as well.
I hold space for my students to have their own unique experience, be it light or dark, and ultimately, my hope is that students will find just the right lighting for their story on and off the mat.My classes offer a place to be real, to have fun and to go inside. Come and find YOUR OWN authentic island to breathe and connect with everyone around you, and mostly with yourself.
Alessandra Rueegger instructs the following:
Sculpt yoga level 2 is a total body workout designed to sculpt every major muscle group by combining yoga postures with weights, cardio and plyometrics. This class is practiced in the heat (98 degrees) and adds more cardio and plyometrics than our level 1 class. Sculpt Yoga is a great compliment to your regular yoga practice.




A heated class suitable for students of all levels but geared towards those with prior yoga experience. This level 2 class strengthens, balances and detoxifies the body while focusing on more advanced postures. This class will have you moving and sweating so a towel is recommended.