Sarah Kurtz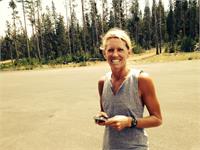 I love nature. I love how the sun sheds light, how rain brings growth, how snow brings silence, and crisp air creates color. I love animals and their pure joy in the moment, and how their instinct brings them to the edge.
I love yoga. It is for everyone, anyone. Everything is yoga, when it brings you a moment of quiet, self-revelation, or selflessness. Yoga has brought to me a family whom I love and a sanity I can't explain.
I love how yoga can cajole us into our true nature-all its shades of light, dark and beautiful colors-in its extreme strength, acknowledgement of self and others, and utter peace of mind in stillness.
I hope to offer a space for all to discover, acknowledge and embrace their own TRUE nature within a yoga class.
Sarah Kurtz instructs the following:
A heated class suitable for students of all levels but geared towards those with prior yoga experience. This level 2 class strengthens, balances and detoxifies the body while focusing on more advanced postures. This class will have you moving and sweating so a towel is recommended.




A non-heated class, sculpt yoga level 1 is great for all levels. This class is a total body workout designed to sculpt every major muscle group by combining yoga postures with weights. Sculpt Yoga is a great compliment to your regular yoga practice.